When I was eleven my mom said you're so invisible,
you should be a drug dealer. From then on, I knew I
would be hard to get. I've been twenty-one for
three weeks. My friend poked the word lucky into
my wrist with a spare needle last night. I feel like a
fever. I'm perched on concrete that gets warm but
does not burn. My psychiatrist says I'm manic
but I'm fun. You don't look like me and get away with it.
My hair is still matted from birth. Beneath the no
smoking sign again. The Taurus ​says my art matters
less than hers and thought I would agree because she's
so nervous all of the time. Shut up. I'm not anxiety cute,
I'm evil. My head is full of what they called electricity
before they could sell it. I'm Kurt, Madonna, an
apocalypse who knows how to wait. A woman in the
hottest pink walks past me like a flood. A man gives me
my third cigarette of the half-hour and says he loves how
upfront I am. Now, what do I have to be shy about?
My teeth are gross and argumentative. I have never eaten lobster.
Actually, I'm allergic. No I'm not. My brain knocks
to get out. Above, the moon is a fingerprint.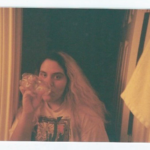 Jasmine Ledesma lives in New York. Her work has appeared in places such as Glitter MOB, Gone Lawn, The Southampton Review, and [PANK] among others. She currently writes for NBGA.