In the photo of Notre Dame, three ravens swim in the churn of smoke and flame. 
In stories, ravens live close to the end of the world.  
They are hungry, and the cathedral is consumed already. They are ready. They like it this way.
On that façade stands the carving of St. Dennis, patron Saint of France. 
In French, ravens are sometimes called prêtre, or priest.
Yes, that is his own head that he's holding. 
Prêtre comes from the Greek—πρεσβύτερος, presbuteros—meaning an old man, an elder. Despite the fact that the Greek appears to use the term "eros," the word does not derive from desire.
When the Romans cut his head from his body near where Montmartre now stands, his dark hair looked like a nest for ravens, it was said.
Ravens mimic the calls of other species; they even imitate human words.
He picked it up, walked miles from Montmartre, through poplars fruited with ravens mocking him, calling out his name. He walked as far as he could.
They sometimes wait in trees as ewes give birth, then attack the newborn lambs. 
This, too, is part of the story.
Prêtre habitué means "to be in the habit of." In the colloquial it means: Get used to it.
Baudelaire: Il n'existe que trois êtres respectables; le prêtre, le guerrier, le poète. Savoir, tuer, et créer.
He collapsed.
Young birds are fond of playing games with sticks, repeatedly dropping them, then diving to catch them in midair.
He carried his head, like knowledge, like a comrade, like a small dark bundle of faith as long as he could. 
The priest, the soldier, the poet.
When it finally fell from his hands, ravens left the trees. They returned with pieces of wood, as if preparing to build something.
They brought small pieces of wood and wove them into nests in the surrounding poplars.
Savoir, tuer, et créer. To know, to kill, and to create.
From the trees they called out a sound that might have been prêtre or may have been prêtre habitué.  It is hard to be sure.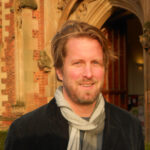 Jeffrey Thomson is a poet, memoirist, translator, editor, and is the author of ten books, including his most recent, Half/Life: New and Selected Poems. He is professor of creative writing at University of Maine Farmington.