At first, we thought the mango tree was another one of Susan's shticks. A way to feel good about showing up every morning and motivating us to write code or handle support tickets or cold-call prospects or dream up new marketing bullshit or whatever it was management expected us to do. Despite a generous take-what-you-need vacation policy, standing desks for whoever wanted one, and regular company happy hours (complete with branded beer bottles and decorate-your-own soft pretzel/cupcake/etc.), the extras weren't enough to retain even mid-level talent as the company crumbled around us. The job market was good, maybe too good. Some weeks it felt like we spent half our time at sendoffs for colleagues, a double-whammy: our wallets thinning from contributions to goodbye presents and our bottoms fattening from the almond and chocolate croissants and cinnamon yeast cakes made with real butter. Susan and team were doing a heroic job to keep those of us who remained happy, and nothing happened in that office without her knowledge. But she was as surprised by the mango tree as the rest of us.

No one could remember if they'd noticed the sapling in the corner of Flintstones, the largest conference room on 29. If so, the assumption would have been that it was just another decorative piece of plastic, though Josie and the Pussycats and Scooby-Doo had no such fake plants, nor did the Brat Pack-themed meeting rooms on 28. And it had been months since we'd been to the One-Hit-Wonder rooms on 27; after the "right-sizing," we'd put in drywall to close off the internal staircase. For all we knew, the new tenants had changed the names anyway.

We discovered the tree was real when we heard Duncan shouting at Lady Di from down the hall, and we came running. The Pomeranian was a permanent fixture in the office; well-trained, polite, and certainly house-bred. She barked only when hearing applause at a goodbye party or company meetings. Lady Di's head was down, and every few seconds she emitted a whimper that sounded more human than canine. Duncan crouched on the ground with a towel and cleaning spray. Lady Di had missed the sparse weeds at the trunk of the tree, and her pee had splattered all over the gray meeting room carpet.

"My Lady obviously thinks she's outdoors. How embarrassing!"

A few of us gathered closer. The tree's roots seemed to disappear into the carpet. It was easy to understand how Lady Di got confused. We examined the shiny dark green leaves and cupped the green waxy orbs in our palms. They varied in size, from marbles to golf balls to tennis balls.

"Another two months or so 'til they ripen," said a guy from R&D. We didn't know his name or what he did at the company, but he seemed to know things.

We cheered at the thought of having fresh mangos and – if we were lucky and Susan finagled management into buying a blender – mango shakes. Then we remembered we might not be here in two months.

"Right!" Susan took charge and assigned each person a task. Pruning, watering, erecting a small fence so Lady Di would not lift her leg there again. Our agility and problem-solving skills had atrophied in the months since feature development had been frozen; caring for the tree – and later the plum, lemon, almond, and others that showed up on 28 and 29 – would become our new project. LinkedIn encouraged us to add "Growth Hacking" to our skills, and who were we to argue?

But on that first day, our mystery R&D man stood with his eyes closed and moved his hands in the air as if blessing the tree. He smiled as he opened his eyes. "They're a symbol of love. Wealth and fertility. Even immortality."

"So it is one of your shticks," Duncan said. He was standing now, holding Lady Di and nuzzling the back of her neck. We could tell he felt bad that he'd yelled at her.

Susan swore it wasn't. But as we learned more about the mango tree's medicinal properties to ease muscle cramps (a godsend to those of us with standing desk syndrome), watched the cleaning crew spray and polish its leaves before new potential investors were paraded through the office, and saw the sendoffs dwindle, we didn't believe it was serendipity.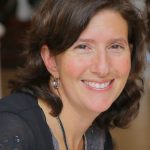 Julie Zuckerman's debut novel-in-stories, The Book of Jeremiah, was published in May 2019 by Press 53. Her fiction and non-fiction have appeared in CRAFT, Atlas & Alice, Crab Orchard Review, Jewish Women's Archives, The Coil, Salt Hill, The SFWP Quarterly, and Sixfold, among others. A native of Connecticut, she now lives in Israel with her husband and four children. She works full time at an educational technology company, and she is the founder of the Literary Modiin author series, which hosts writers talking about their work. Learn more at www.juliezuckerman.com