I.
February, a year since my first episode, and I think I count past 200 beats a minute as I lie in bed, listening to my heart. My arms and legs tingle, like the flesh washed out to static under the blood rush. I try to stay still, to look at paper peeling from the ceiling and the rhythmic crawl of a spider toward the hanging light, but the temptation to move, to talk, to laugh and hold on to a giddy moment is too overwhelming. Later, they will call this acute hypomania, but I don't know that when I get out of bed and walk to the dresser I've owned since childhood, covered in old Pokémon stickers and new whisky bottles. As a child, I thought of going north until I reached the woods, and hunting down all the Pokémon, holding them up until everyone could see them as I could see them. Samuel Johnson referred to giddy as being "elated to thoughtlessness," but I can tell you my feet still step over the remnants of a glass lion heirloom I don't remember breaking, and my eyes still gloss over the flypaper covered in hollow carapaces like Metapod. I sit at my computer and track an Amazon shipment of walnuts I never meant to order. And while I try to hold my breathing steady, I run my fingers along the desk carved with a dozen initials from my youth, now jumbled senseless, and feel around with my feet over wood layered with mismatching varnish, past energy gems and mousetraps sprung years ago on empty air.
II.
I think I'm in love with Peter Pan. With every giddy incarnation, every shadow and faerie grasped in ageless hands. I find myself wanting more and more to hear again the rush of blood through my limbs, the whirlwinds of thought that medicine now dulls. I think of Wendy turned flush at the faintest knock. I leave my windows unlatched and, though I dream often of being a satellite, I wonder if I have what it takes to fly toward a star. J.M. Barrie based his characters on the du Marrier family, whom he obsessed over for decades, impotent and without a family himself. He took photos of the children on the beach and imagined alighting out windows with them, ageless on battles over the sea, never in danger of growing up. I'm afraid of the ocean, but I think I could soar over cresting waves with Pan in hand, get drunk off the sounds of pirates dying and ticking clocks in crocodile stomachs. I could dance amidst the cannon fire with children whooping, hold my own on a blood-soaked deck. That's the giddy I want. Tattered sails and long knives, primal fears and salt spray.
III.
Giddy in Old English means insane, but not any type of insanity. The giddy madness they speak of referred to those "possessed by a god," best compared to ylfig, "elf-possessed," an untamed elation. What could they make of those struck by an ecstasy unwarranted? What else if not the Fae or Divine could explain the manic spending and palpitations, the unbid ego that drove some to death? I want to say I work hard to keep the elves at bay, that I listened during all the sessions when doctors told me, "Jacob, regiment is key." Sometimes, though, I take my shoes off in the wrong order, I leave my toothbrush on the counter, I lie awake until the urge to drive overcomes me. I dress again and leave town on a two-lane highway northbound. I drive until I reach the village of Cerro Gordo, where all the lights are dimmed in the chill air, save one. A distant glow, a will-o'-the-wisp between trees and trailers, past the back streets where gravel scatters into the ditches and the fields turn to bogs in night rain. I leave my car behind and walk through the mist until I come to a fence surrounding a copse of trees, the light source hidden behind them, its reflection obscured by giddy ripples through puddles beneath my feet. I want what's creating the light, the faerie just out of sight in the February dark. I grasp the cold chain links in hand and try to remember how to climb, or fly. The light drones, the amber glow catching the mist, well above the tree line and bright now that I'm close. I listen to that drone, head against the fence, rain trickling along my chin, until I feel the bellow of my heartbeat.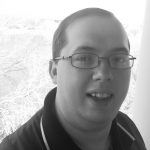 Jacob Hall is a PhD candidate at Texas Tech University. His recent work has appeared in The Forge Literary Magazine, After the Pause, Flash Fiction Magazine, and elsewhere. He received his master's from Northern Michigan University, and he lives in Texas, though he still calls the Midwest home.