I keep the radio off
thinking I might notice things
like the names of streets, or the way trees
call light into their upstretched arms,
instead of worrying about this
actor who's going to feed me
scallops and fuck me and never
call me again, because I'm nervous,
it's my first time—the shellfish—
and it might not work—sleeping with
a stranger to get past the painter
I left the last time I took a rental
through California—and the scallops
taste like nothing, almost, like rubber,
really, but I eat them
anyway, and the actor, he flips me
upside down in mid-air and slurps
me loudly, then sucks my toes
(we're on the bed now), but he doesn't
fuck me, and I don't care, in fact
I'm relieved, glad even,
when he fumbles the shiny wrapper,
and the moment dissolves
like a wafer on our tongues,
and I'm absolved
of the cuddles and half-sleep
that inevitably follow
seeing it through (seeing him through—
not me, I never finish,
not once, not ever, though that's
a different story), and I snatch
my jean jacket, fling it
into the rental, spill out
onto the freeway, nameless,
past midnight, my body still sharp
and light and open, ready
to receive the sound of the road.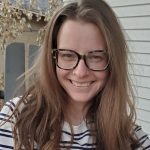 Ashley Kunsa is a poet and writer from Pittsburgh. Her recent poetry appears, or is forthcoming in, The Massachusetts Review, Malahat Review, Barrow Street, and Bennington Review. Currently, she is an assistant professor of creative writing at Rocky Mountain College in Billings, Montana, where she lives with her husband and two children. Find her online at www.ashleykunsa.com.