Winner of the 2022 Maine Postmark Poetry Contest, held in conjunction with the Belfast Poetry Festival

because the memories are buried Like bones in the yard.
& only We know where to find them.
That's the trouble with God I think. all trust and no pay
out. A truly clever sleight of hand.
but No love ever introduced itself honestly. Something
broken about it. Like men who say Cheers
instead of thank you. It's no wonder Beautiful women
are prone to stomach aches.
Cold oceans. Recurring dreams. Crunched for time, we
find ourselves devouring the whole damn cupcake
and the paper too. Like how often we just say Nothing
instead of anything. because home is where the hard is.
I sometimes feel like I'm talking to my former self.
I haven't smoked in years and yet I'm hacking
Listen, Sugar. The only thing we're really sharing
Here is gravity. Like when we pretend the wine is
Jesus blood. Like dogs barking up a tree at something
they can only smell.+++I could go on.
I will say––it's curious what the body goes through—
And who goes through it.
Mine had a child put in and a child dug out & a child
Who left without asking. Let that land softly.
My first kiss was at age five beneath a boy's back porch. The
memory sunk in my throat like a ship.
The boy convinced me it's what people in the Movies do.
First came convincing. Then ok.
I wrote my first poem that same year. And now all My
poems sound the same. Yes was Too early
& no too late. Beneath the porch, behind the shed.
I learned to push up my sleeves
That year. That here we are pretty peonies. Walk right up
and smell us.+++Anyway.
You might've guessed the hero survives but barely. Dewy
American limping toward paradise,
Bee-stung lips and globes for eyes. God, the Highest,
created this body and Boy did he ever.
My body. Knock-kneed across the console. My body––
was never ready and still isn't––
Pinned to Earth as if one day it might get shoved clean
off. Gather yourself, darling.
You don't have to go home but I suggest you get the Hell
out of here. Like my mother always says
I mean it. I am only Here but for fortune. tending to
the bones. Body Breaking like a wave.
A colder ocean than ever.+++& yet somehow still
I delight in dreaming. Foolish, I know. but god
is it mine.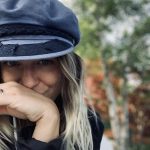 Meredith Thomas is a Portland-based writer, poet, storyteller and freelancer. Her work spans multiple genres, including poetry, arts education, nonprofits, immersive theatre & music. She is ecstatic to be recognized by the Maine literary community and is ever-seeking spaces to share words and connect with other writers. When not writing poetry, she works in copywriting and social media content creation. Most importantly, however, she is a full-time mother to her beautiful toddler, Judah.