I could tell you that I'm brave, but brave
is a lie. I could tell you that I'm
doing well, but that denies
the very nature of loss.
This is an archaeological dig, everything contained & conjured.
It's raining/blackbirds. I drag a duffel, grey, onto
the porch & start collecting summer/storms.
Life bleeds & swirls against my skin,
drowning things, I used to carry babies, two
daughters & a son. I watch the cradle go, then the sling,
but when the Moses basket goes, unraveling beneath
dark amethyst waves, I sew my heart back inside
my chest, my weakening heart. Love, longing
slip unnoticed between my fingertips
until there is nothing left but years
that got away.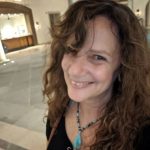 Sheree La Puma is an award-winning writer whose personal essays, fiction, and poetry have appeared in or are forthcoming in The Penn Review, American Journal of Poetry, WSQ, Chiron Review, SRPR, The Rumpus, Plainsongs, and I-70 Review, among others. Her poetry was recently nominated for Best of The Net and two Pushcarts. Her micro-chapbook, The Politics of Love, was published in August by Ghost City Press. She has a new chapbook, Broken: Do Not Use, recently released with Main Street Rag Publishing. She received an MFA in Writing from the California Institute of the Arts and taught poetry to former gang members. www.shereelapuma.com