I wanted to write a love poem and, like all good love poems, this one started with a surgeon sawing my corneas into flaps and shredding my lenses. My senses—sensitive—were overwhelmed. But maybe both love and surgeries are like that: open heart/open eyes? The reasons for my eye surgery are, obviously, sharks and raindrops.
You see, one day I'm going to take our children swimming with the sharks that prowl coastlines of our Mexican home. Ours are pretty standard shark-loving boys—so maybe we'd start with the whale sharks off Quintana Roo with their gentle plankton-inhaling simplicity before perhaps cage-touring the hammerheads or the Great Whites off Isla Guadalupe. Goggles would be required. I couldn't see without glasses. So, laser eye surgery seemed like the answer. But that day, it felt like sharks were chewing out my eyes, and weeks later, when things hadn't healed as expected, it was if sharks were feasting on doubts that I'd ever see correctly again. Even simple surgeries can swiftly turn and bite you.
An orderly had patched my chopped-up eyes. They were probably white pirate patches—I surrendered to the tears and the blessed dark. Oh yeah, and the love poem bit—you see, Luis and I, we're not really visible enamorados, Instagrammable, posting selfies of dates sort of people. That day of the surgery, I put my arms around his shoulders and followed him: my right leg behind his left leg, his hand on my hip as he led me, blinded by the eye patches.
Luis spoke in English, which meant he was worried:
—Here's a ramp.
Up or down?
—Down. We're crossing the street.
We crossed the street together, limbs of arms and legs on a trunk of our two bodies. I could feel light freckles of liquid on my arms, then bigger splatters across my face—a gentle plop plop—a rain that caressed. I could feel the sunlight not blocked by Chapultepec's tall, leafy trees. Mis lentes no tienen gotas de lluvia, I said to reassure him, and because I was a bit amazed too at what I had just done and Luis laughed.
The other reason for surgery had been raindrops. One day Luis and I had been out biking and saw the clouds of an incoming squall—there is a thunderous, weighty quality to rainy season rain—warm and heavy and foggy, so thick you can almost hold it. That day a torrent flooded my glasses so I couldn't see, and I couldn't wipe them clean on my clothes steeped in sweat and puddles. It was then that I said, Okay, I'll do it; it had been years since Luis first suggested surgery. Glasses were safe and comfortable; finally, the limitations seemed more significant than the risk.
The eye surgery results won't last forever, of course. I'll probably need reading glasses one day, and nowadays I always use non-prescription glasses when I face the glare of the computer. I wear sunglasses when I ride my bike and just last week I got rain-soaked by a massive storm while riding. This time though, I didn't need to dry them off to see. I just put the glasses away while the raindrops hurricaned down on my face and I laughed.
Luis and I took the boys snorkeling for the first time not too long ago. Masked and air-tubed, we swam and watched: amongst the coral reefs there were thousands of brightly colored fish. We didn't spot any sharks in those friendly reefs, but my eyes could see the delight on the faces of the boys discovering a slice of what was possible and a piece of a whole new world.
It's been over two years since my surgery. Maybe that day you saw our laughter in the streets and the way he held my pirate patch blindness for me—but all that you can't see is the immensity of the tree roots under the desert soil: stronger, deeper, fuller. We are that tree. You see, I'm a clichéd lover of the sound of raindrops on the rooftop and the wind in the pines. For now, this poem, this delight is so deep, it is unseen. For now, this memory is the best love poem I can write:
Arms around him, my right leg behind his left leg, his hand on my hip as he led me in that darkness. I walked through shades of just black and less black—and I remember thinking: I have everything I need.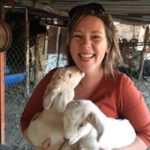 Lisa López Smith is a shepherd and mother making her home in central Mexico. When not wrangling kids or rescue dogs or goats, you can probably find her wandering the wilds of Jalisco. Recent and forthcoming publications include: Helen Literary Magazine, Jabberwock, Mom Egg Review, TJ Eckleburg Review, Mothers Always Write, and Bluestem.