On the last day of the shoot, she appears in just one scene, which might more accurately be referred to as a transition—a CGI bridge between reality and the Shapeshifter's Lair, as the script describes it. Her role in this scene is considered central, for her character (a peculiar girl of eight, obsessed with Incan mythology and tales of La Llorona) is the first to recognize how slippery the surface of reality can be. How her reflection in the bathroom mirror moves of its own accord, the glass turned liquid, shivering at the touch. Her fingers slip right through it, into another world. Or so the director tells her to imagine as she stands on her mark, surrounded by screens so green she wonders momentarily if she has been dipped in paint. Maybe when the scene is over, she thinks, I can wash it off. Maybe this will be the last movie I ever make.
           Her mother and father, a.k.a. her agent and manager, stand off to the side, watching her in pained yet rapturous silence. Ever since she started acting at the age of four and a half, their lives revolved around hers—her rehearsals, her auditions, her appearances and hair appointments, and half-hearted homeschooling—in a way that holds them perpetually at a distance, as if they're looking at her through a filter. In their eyes, she is the child star, the young prodigy, and, whether they admit it to themselves or not, the breadwinner of the family. With each new role, her biggest question is not How will this advance my career? But rather, Will this role be enough to finally set me free? Sometimes, when she notices her parents staring, hanging on her every word, she wants to shout, Stop looking at me! Get your own lives!
           Apart from money, she has no idea what they love, what else brings them joy. Their inner lives are as much of a mystery to her as hers is to them. Neither of them knows, for instance, that whenever she finishes memorizing all her lines, she tears off a little corner of the script and puts it in her mouth, folding it around like wet origami, until the paper disintegrates and she falls asleep. Or that each time she shoots a film, she imagines herself sitting side by side with the leading lady, their hair wrapped in towels, their bodies swallowed by fluffy white bathrobes, as they drink and discuss what it means to be responsible for someone else's life and happiness. Or that for as long as she can remember, her life has been divided between the image of herself she shows others and the one reflected in the mirror and that this is why, when the director tells her the empty frame on set is actually a mirror and that this mirror is a portal to another world, she understands perfectly: the goal of this scene isn't escaping from the horrors of her home, but relief at the confirmation that there is life beyond this life, that there are worlds inside worlds.
           In the script, the Shapeshifter's Lair is described as a dank cave—a shadowy realm where what is real can never be separated from what we want to be real—but in her mind, the girl sees it more as a hall of mirrors reflecting not her own image but her fantasies of who she could've been or might still become. In one, she sees herself sitting in a classroom full of children attempting to focus on what the teacher says while outside the day proves heartbreakingly stunning. In another, she is helping her mother in the kitchen, grating a big block of queso blanco for the next batch of homemade empanadas. And in another, she's nothing and no one, a girl who never was and never will be. This comforts her. When she finds the Shapeshifter at the end of the hall, her character is not afraid. It welcomes her into its lair and teaches her some of its magic. She already knows that she will learn from this creature and that in the end she will assume its place because they filmed those sequences weeks ago. This is the end of the shoot. Her work is done.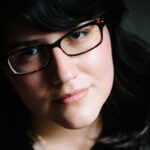 Ruth Joffre is the author of the story collection Night Beast. Her work has appeared or is forthcoming in Kenyon Review, Lightspeed, Gulf Coast, Prairie Schooner, The Masters Review, Hayden's Ferry Review, Pleiades, and elsewhere. She lives in Seattle, where she serves as the Prose Writer-in-Residence at Hugo House.